Jak sprawdzić czy telefon jest kradziony?
2022-04-20
Zakup nowego telefonu to przywilej, na który nie każdy z nas może sobie pozwolić. Tym bardziej że najnowsze urządzenia prosto z salonu to koszt od tysiąca złotych, a górną granicę trudno określić. Nieco inaczej jest w przypadku telefonów Apple - cena nieużywanego iPhone'a 13, 12 lub nawet 11 zaczyna się od 2500 zł. W takiej sytuacji zwykle szukamy innego wyjścia - wybieramy używany sprzęt. W lombardzie, w komisie, kupujemy przez internet, jest wiele możliwości. Warto jednak sprawdzić, czy telefon nie jest kradziony, bo inaczej taki zakup może odbijać nam się czkawką przez wiele miesięcy, a nawet lat. Jak sprawdzić, czy telefon jest kradziony? Jak sprawdzić status własności w telefonie z Androidem? A jak w iPhonie? Odpowiedź poniżej.
Jak sprawdzić, czy telefon jest kradziony? Android
Zakup kradzionego telefonu to przestępstwo i od tego warto zacząć. Zdecydowana większość społeczeństwa raczej zdaje sobie z tego sprawę, ale czasem możemy być nawet nieświadomi tego procederu. Nawet nieumyślny handel kradzionym sprzętem traktowany jest jako paserstwo nieumyślne i może wiązać się z kilkuletnim pozbawieniem wolności. Umyślny tym bardziej. W sytuacji, kiedy kupujemy używany telefon przez internet albo w komisie podstawowymi przedmiotami transakcji poza sprzętem powinny być dokumenty potwierdzające pochodzenie urządzenia. Dzięki nim sprawdzisz, czy telefon nie był kradziony. A sprzedawca powinien ujawnić takie dane bez żadnych problemów. Jeśli nie jest skłonny do przekazania ich Tobie, wiedz, że coś się dzieje...
Pamiętaj: nabywając używany sprzęt, sporządź umowę kupna-sprzedaży, zawierając w niej szczegółowe dane techniczne, zgodne z tymi umieszczonymi wewnątrz telefonu np. na kieszonce na kartę SIM. Mowa tu o numerze IMEI.
Żeby dowiedzieć się, czy telefon jest kradziony, czy pochodzi z legalnego źródła, należy:
Znaleźć numer IMEI urządzenia
Sprawdzić go poprzez wpisanie na stronie numberingplans.com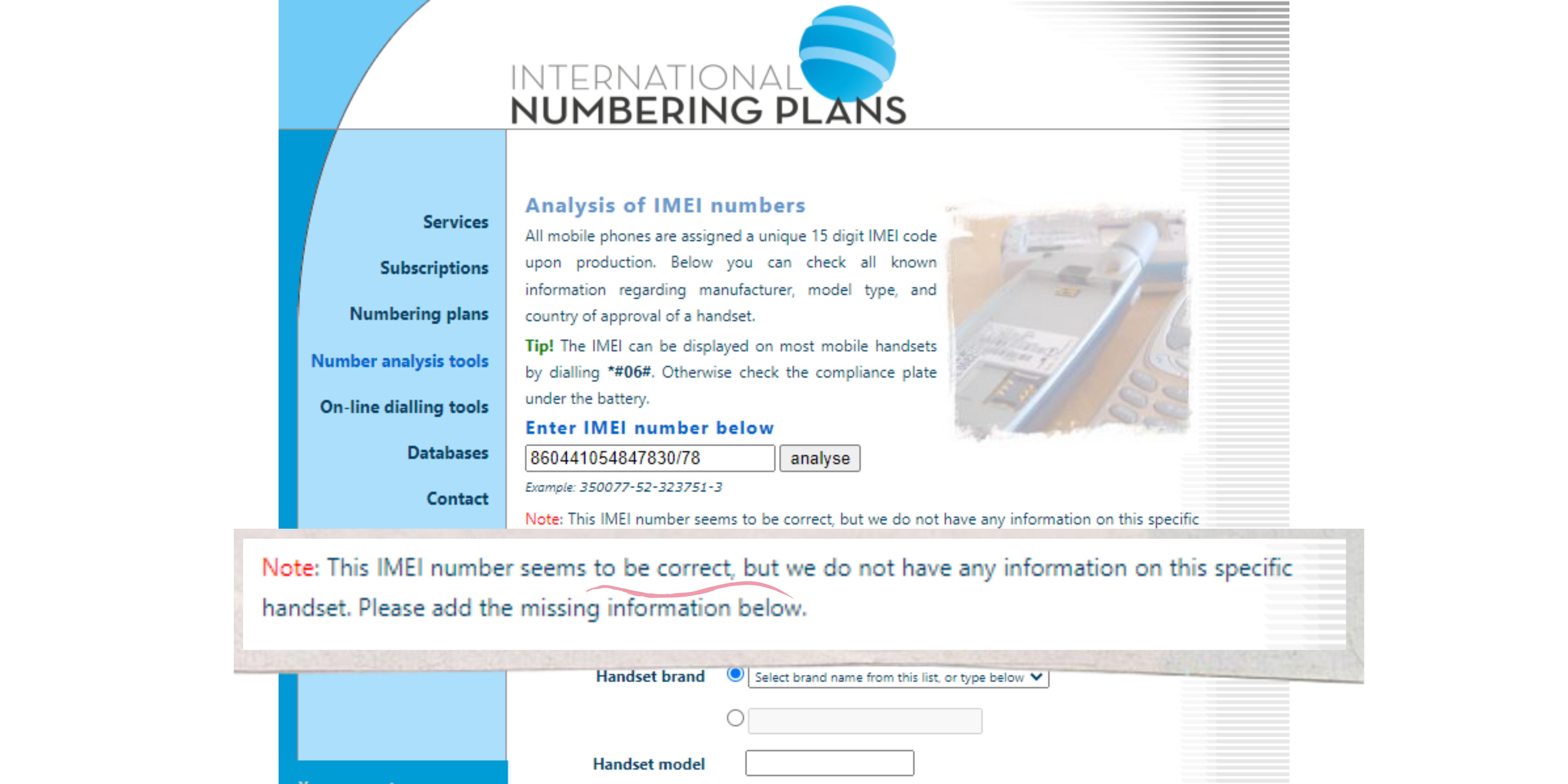 Jak widać numer IMEI wpisanego urządzenia jest poprawny. Oznacza to, że telefon nie był kradziony.
Numer IMEI. Co to jest? Jak go znaleźć?
Numer IMEI to 15- cyfrowy kod, który jest niczym PESEL dla telefonu (lub innego sprzętu)- niepowtarzalny. International Mobile Equipment Identity, czyli indywidualny numer identyfikacyjny umożliwia sprawdzenie, czy telefon był kradziony. Po wpisaniu w odpowiednim polu na stronie weryfikacyjnej otrzymasz jasną informację.
Jak znaleźć numer IMEI?
Numer IMEI znajdziesz w prosty sposób:
wpisuj

ąc

*#06# na klawiaturze telefonu,
na kieszonce karty SIM lub z tyłu urządzenia,
pod baterią w telefonie,
na pudełku,
na umowie.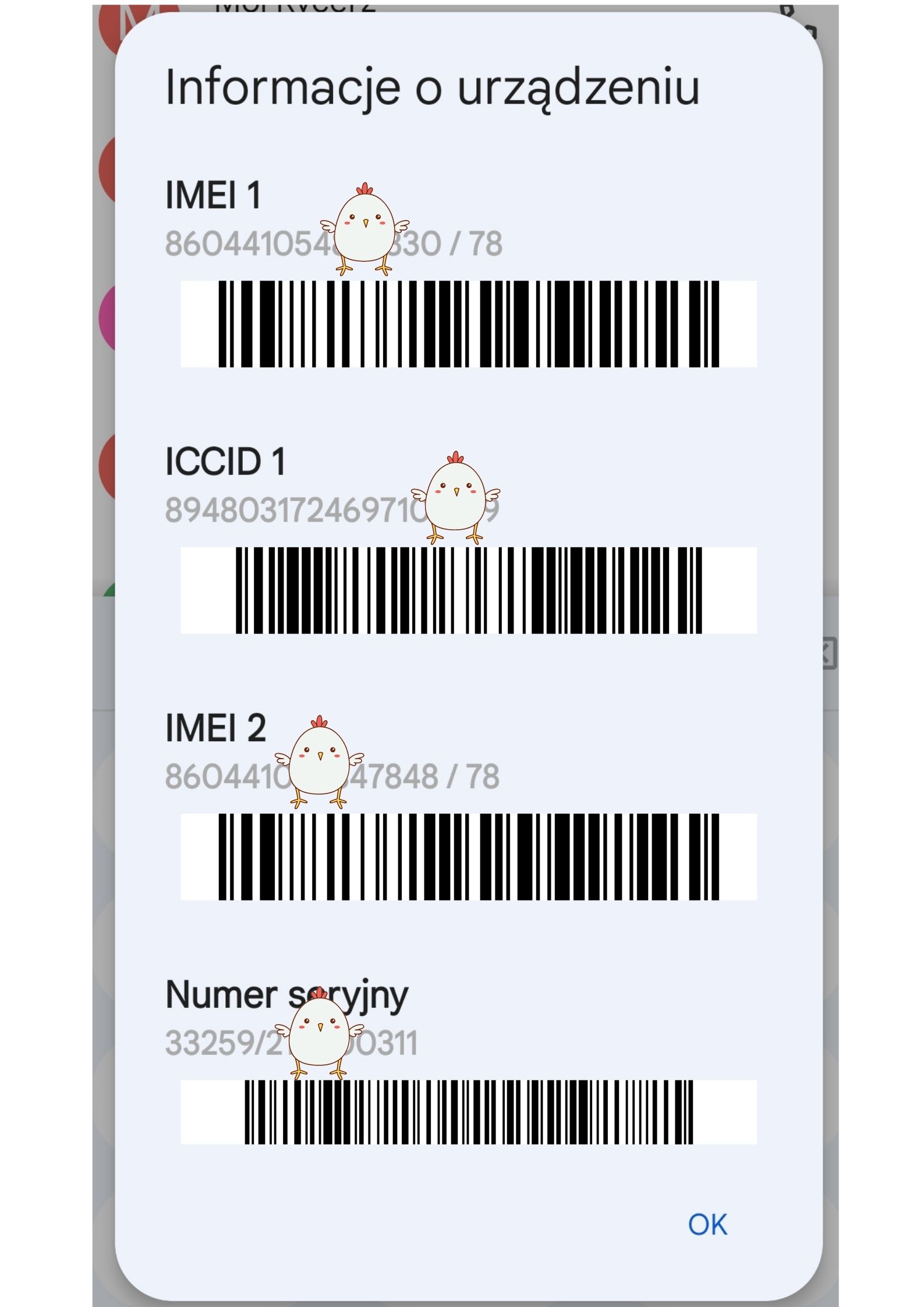 Jak sprawdzić czy iPhone jest kradziony?
W przypadku urządzeń marki Apple weryfikacja pochodzenia smartfonu jest jeszcze prostsza niż w przypadku sprzętu z Androidem. Apple ma bazę wszystkich aktywowanych urządzeń, dzięki czemu sprawdzenie, czy iPhone jest kradziony przebiega bardzo szybko.
Po pierwsze odnajdujemy numer IMEI iPhone'a. Wystarczy przeczytać go z tylnej obudowy telefonu lub wysunąć kieszonkę karty SIM.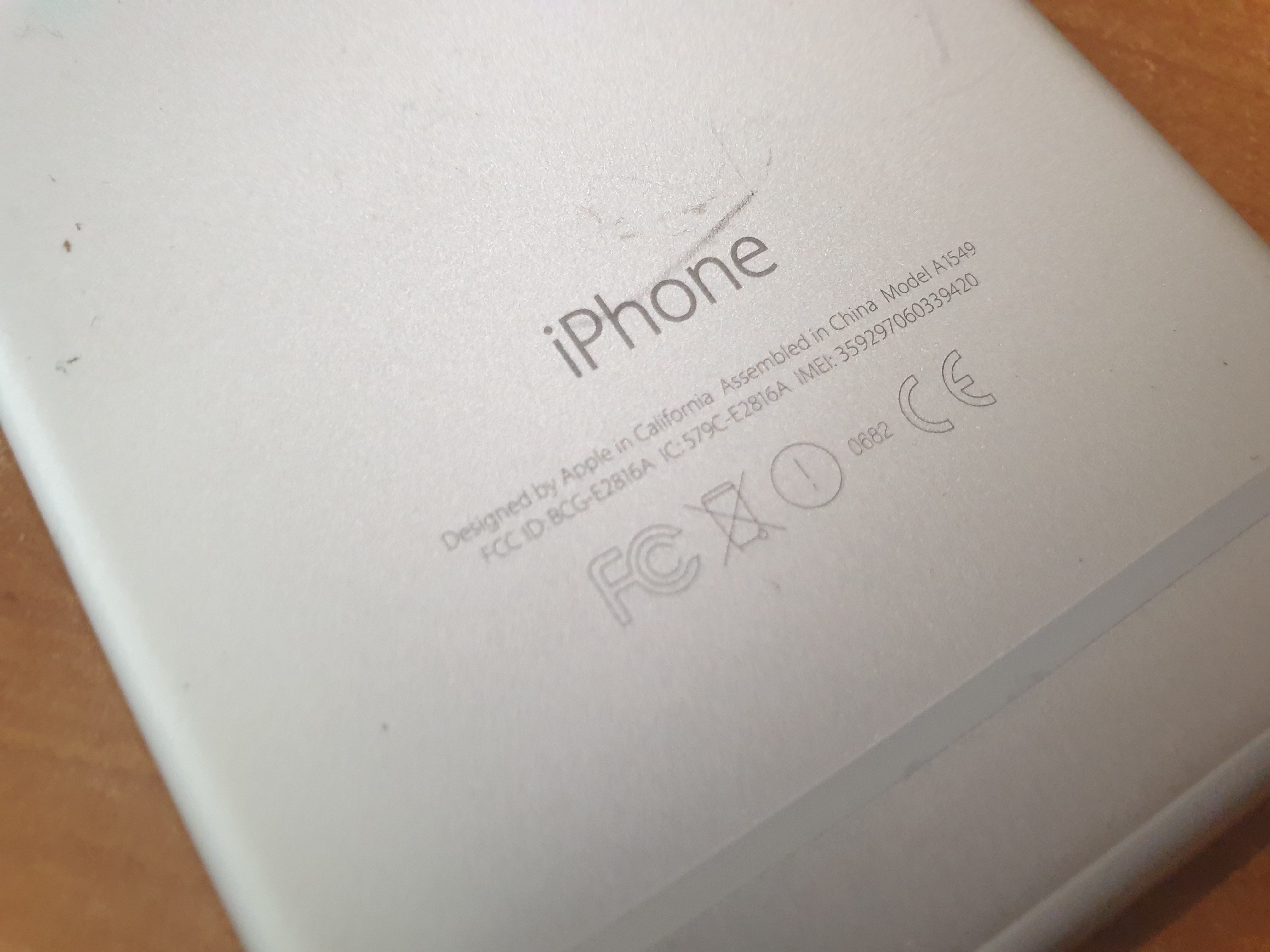 Po drugie numer IMEI wpisujemy na stronie checkcoverage.apple.com. Uzyskujemy informacje o potwierdzeniu daty zakupu, okresie serwisowania i napraw naszego iPhone'a.
Kradziony telefon - Czarna lista IMEI
Jeśli nie jesteś pewny źródła, z którego kupujesz używany smartfon, koniecznie sprawdź numer IMEI. Ale pamiętaj, żeby zweryfikować go w kilku miejscach, na kilku stronach. Bazy kradzionych telefonów, czarne listy mogą się różnić, więc lepiej poświęcić na to kilkanaście minut, niż później martwić się o konsekwencje.
A co może się stać, jeśli telefon okaże się kradziony? Przede wszystkim operator może zablokować jego funkcjonowanie, następnie osoba będąca w jego posiadaniu (nabywca) może być oskarżony o paserstwo, ponieważ kupno kradzionego smartfonu jest nielegalne. Co więcej, możesz mieć problemy z naprawą nie tylko w autoryzowanym, ale i nieautoryzowanym salonie. W legalnym komisie też łatwo go nie sprzedasz.
Czarna lista IMEI
Jak zgłosić kradzież sprzętu i zakup kradzionego smartfonu? W takiej sytuacji pierwszym, co przychodzi nam na myśl, jest zgłoszenie policji i jest to słuszny krok. Są też strony, serwisy, które tworzą bazy kradzionych telefonów, Czarne listy IMEI - możesz dodać tam IMEI sprzętu, który kupiłeś, uniemożliwiając innym osobom ponowny zakup tego urządzenia. Jeśli natomiast Tobie skradziono telefon - także dodaj jego numer do bazy - znalazca będzie mógł się z Tobą skontaktować.